The company known as Royal Purple produces high-performance automotive lubricants and other chemicals. Their motor oil (and many of their other products) are actually purple as well.
The picture at the left displays some of the products they produce, including gear oil (the tall bottles of Max Gear and Synchromax) and their Purple Ice coolant additive. They produce more than what is shown on this page, including some non-automotive chemicals and lubricants for industrial equipment.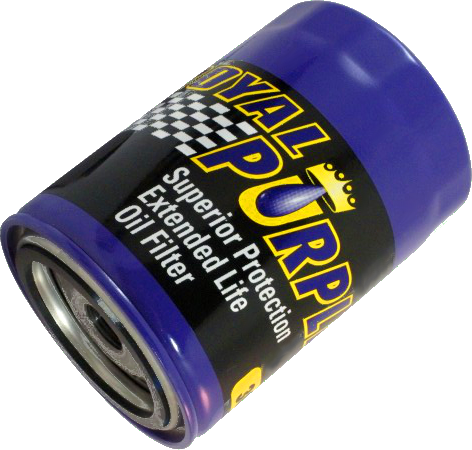 In addition to high performance fluids, Royal Purple also produces long-life oil filters, such as the one pictured at the left. They design their filters to last as long as their oil, which lasts much longer than many other oil filters do. Their engine break-in oil product bottle is pictured at the right, designed for providing protection during a new or rebuilt engine's first starts. Additives for gasoline and diesel fuels are also produced.
Royal Purple Products

Gear Oil
Gun Oil
Max-Atomizer Fuel Injector Cleaner
Max-Boost Octane Booster
Max-Clean Motor Treatment
Max-Tane Octane Booster
Max-Tuff Synthetic Assembly Lubricant
Motor Oil
Oil Filters
Purple Ice Coolant Additive
Royal Flush Radiator Flush